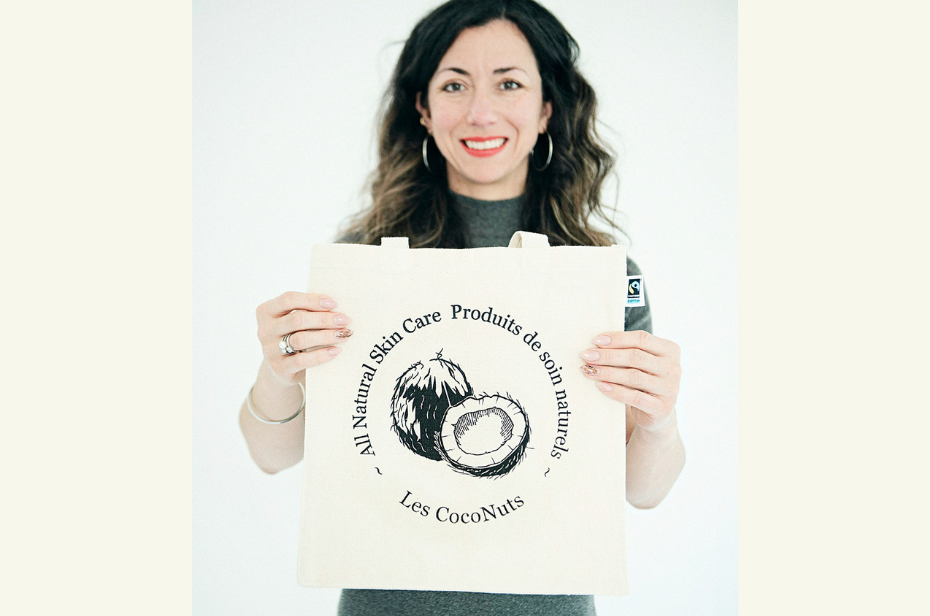 We've wanted to offer you a reusable bag that is sustainable, eco-responsible and consistent with our high-quality brand image for a while now. We did it! Made from organic and recycled cotton, our Coco Tote is eco-friendly, practical and chic.
An ecological & Fairtrade option
The idea of ​​offering a reusable fabric bag came to us months ago, when our team was thinking about new initiatives to reduce our ecological footprint. Beyond our refillable or multi-use containers, we wanted to offer an eco-conscious alternative to our paper packaging bags, which are often thrown away after a few uses. True to our ethical and environmental values, it was essential for us that the preferred bag model be environmentally friendly, biodegradable and promote fair trade.
As our company attaches great importance to mutual aid and sustainable development, we wanted to offer a superior quality and Fairtrade certified product. That is to say, attesting to having been created under fair commercial conditions. Moreover, the FairTrade cotton label which is affixed to our Coco Tote guarantees that the raw cotton from which it was made has been produced in a fair way, is 100% Fairtrade certified and is physically traceable at all stages of its production.
Chic & practical
Aside from aligning with our eco-responsible standards, it was imperative that the fabric and design of our Tote bag reflect the elegance and high-end character of our products. This led us to opt for a thick and luxurious cotton, in order to ensure both the finest quality and the best longevity. Along the same lines, we have selected braided cotton handles, which provide a refined appearance and offer good resistance when our bag carries heavier loads.
Guided by clean and luminous colours, we opted on natural beige without dyes, which highlights the organic grain of cotton and offers a style of simplicity. Of course, our classic black logo, also displayed on our marbled and satin gift boxes, is there, which adds our personalized touch signed Les CocoNuts. Rigid and spacious, our Coco Tote is easy to maintain. It can be washed by hand or in the washing machine, in cold water.
Available on our online store
You can purchase it right now for $18.00 on our online store. Together, let's preserve our environment one reusable bag at a time!
Dimensions: 14'' x 13'' x 6.5'' 
Team CocoNuts