The Konjac sponge: the beauty tool with a thousand virtues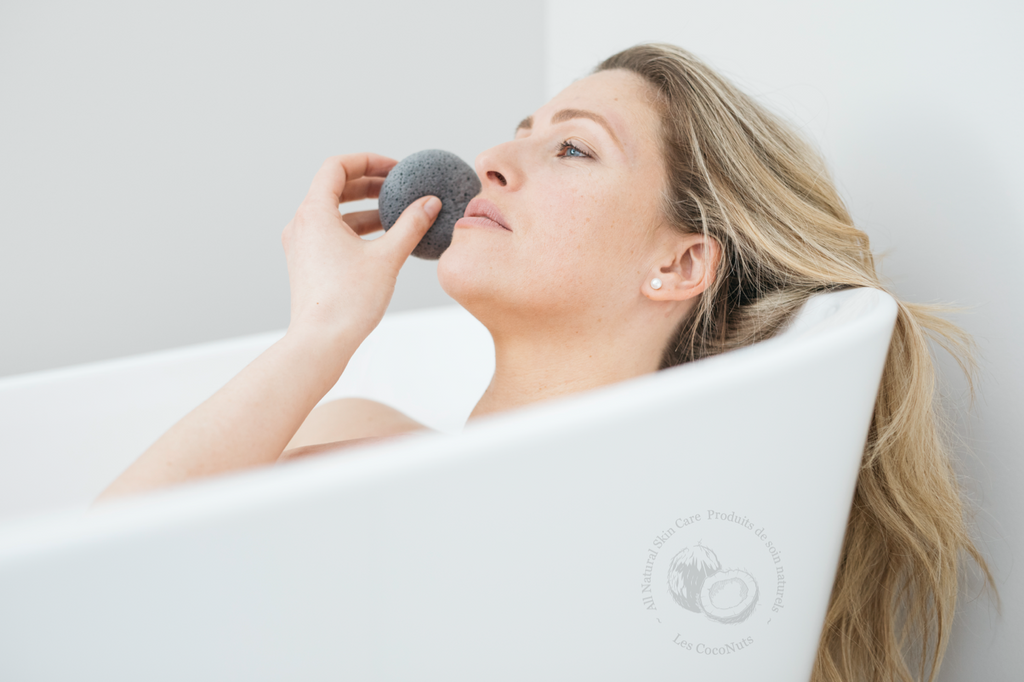 How to describe the Konjac sponge in one word? Innovative! Indeed, this 100% natural and zero-waste vegan alternative is the perfect substitute for traditional disposable cotton make-up remover pads. Ecological and biodegradable, the Konjac sponge has many benefits for facial skin. You will first fall under the spell of its soft and mellow texture, which will give your skin a pleasant feeling of freshness. Beyond that, its composition combining the Asian plant of Konjac and bamboo-activated charcoal will surprise you. Its versatility and exceptional qualities will make it your new essential care accessory.
We have included it into our Les CocoNuts range, intending to offer a sustainable, healthy, and eco-responsible beauty product. The Konjac sponge is an exciting addition to our cleansing treatments. Although most effective when used alone, this natural fibre face accessory can be combined with our facial cleansing gels and our hand and body soaps for a foaming effect and enhanced purifying properties.
But Where Does the Miraculous Konjac Sponge Come From?
As noted above, Konjac has its origins in Asia and is often preferred in healthy beauty routines. More specifically, it is an undeniable asset for facials. Konjac vegetable fibre sponges provide clean-looking and perfectly balanced skin, thanks to the antioxidant and purifying properties of bamboo-activated charcoal. Added to this, both its antibacterial and antifungal properties and its neutral pH, our 100% natural sponge is a versatile beauty tool compatible with all skin types. Known to reduce large pores, redness, impurities and skin imperfections, it is perfect for obtaining a smooth and even complexion.
The Konjac Sponge: Practical and Easy to Use
In addition to doing little wonders on the skin, our Konjac Les CocoNuts sponge is very easy to add to your beauty routine. Once you've tested this sponge, you won't be able to do without it. With beneficial virtues that activate when in contact with water, this miraculous accessory became a master in the art of natural beauty a long time ago. In addition to helping care for skin infections and removing impurities, the Konjac Sponge has positive effects on enlarged skin pores. It is also excellent as a natural make-up remover that has safe skin and environmental benefits. Look more specifically at the daily use that is made of disposable make-up removing pads. You will quickly realize that it includes two to three pads versus a single one of our bamboo charcoal-infused Konjac sponges. It is estimated our sponge will last between three and four months, depending on the frequency of use.
As we said earlier, what makes this facial treatment unique is its many uses. Because it can absorb several skin defects, our buyers appreciate it as a natural alternative to a shaving brush. The Konjac sponge is favoured for soothing the burning, and tingling sensations often felt on the skin after shaving.
This unisex, eco-friendly and affordable product is a must-have for silky, blemish-free skin. To maximize its use, we invite you to refer to the practical tips from above. Enjoy trying out this product and its benefits!