The benefits of coffee extract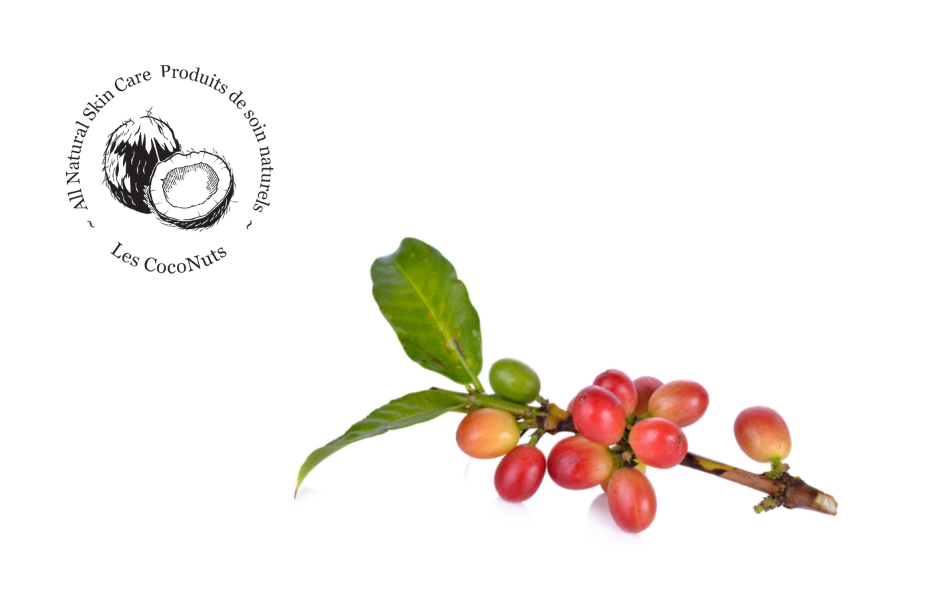 Drinking coffee boosts the metabolism and increases the energy level of the body. But did you know that coffee also has many skincare benefits? Brightening and repairing treatment, firming anti-aging treatment: we explain to you what makes it a versatile and miraculous natural remedy, both for the face and the body.
Strong antioxidant and anti-aging powers
Coffee is used in our facial cleansing gel, our mattifying face cream, our soap bar and our sugar and salt scrub, among others, for its antioxidant capacity. As with our Green Tea Collection, the Coffee Collection is high in antioxidants, which help slow the signs of aging and skin aging, such as wrinkles and age spots. Indeed, polyphenols and melanoidins, organic molecules present in coffee, are known for their effectiveness in reducing the appearance of wrinkles, fine lines and dullness associated with skin aging.
Watchful of the sun
These same molecules have the power to neutralize free radicals, likely to lead to a slackening of the skin due to environmental factors such as cold, pollution and sun. You should also know that coffee extract is an ingredient of choice to protect the skin from the sun and its ultraviolet rays. Thanks to its antioxidant properties, it acts as a shield to protect the skin from damage caused by the UVB rays of the sun. In other words, those that cause sunburn and most skin cancers.
Promotes firm and radiant skin
Since the pure coffee extract is a preferred anti-aging promoter, it will also help reverse another sure sign of aging: the decline in collagen. Between the ages of 20 and 30, a lessening in collagen production of 1% per year is generally observed. This collagen decrease is due to environmental factors and loss of skin elasticity. However, since coffee extract naturally increases collagen and elasticity in the skin, our coffee-infused products will create the opposite effect, leaving the skin firm and luminous.
Facial repair treatment
In addition to providing firmer, younger-looking skin, the coffee extract is intended to be a restorative treatment for the epidermis. Its regenerating and anti-inflammatory properties contained in our facial cleansing gel are beneficial to cleanse the impurities accumulated during the day, rebalance the skin's pH, and relieve redness and irritation.
Our coffee face cream offered in addition to the gel is, for its part, excellent as an eye contour treatment. Indeed, its toning qualities help reduce the swelling and inflammation associated with dark circles and, thus, increase the skin tone under the eyes. Which also helps soften the appearance of fine lines and wrinkles. Because it contains anti-redness and soothing properties, our face cream also promotes a reduction in inflammation and redness, often linked to excessive dilation of blood vessels. Our coffee face cream also has the moisturizing properties of coffee extract to help calm dry and sensitive skin.
Excellent body exfoliator
Beyond our facial treatments, we prioritize fair trade, organic and unfiltered coffee beans in our sugar and salt scrubs and our bar soaps for their exfoliating, firming and nourishing effects. First, using it in our body scrub eliminates dead cells on the skin's surface to keep it smooth and soft. Then, it is recommended that you use the scrub to stimulate the lymphatic system and reduce certain skin disorders and effects of aging, such as cellulite, stretch marks, eczema, and psoriasis.
Our coffee soap bar has similar benefits to face wash and sugar and salt scrub. Composed of a rich blend of oils and butters, it has a balanced pH, which protects the skin against dryness and nourishes it well, thanks to the natural moisturizers that compose it. Like the scrub, the fine ground espresso beans in our soap bar act as exfoliators to remove dead skin cells, leaving skin smooth, glowing and even-toned. Not to mention its captivating smell and an incredible texture that make you want to get a new look every time!
Now that you know the virtues of coffee extract as skincare, it's a safe bet that you won't want to part with it. After all, who doesn't love having clean, invigorated skin?