How to reduce bathroom waste?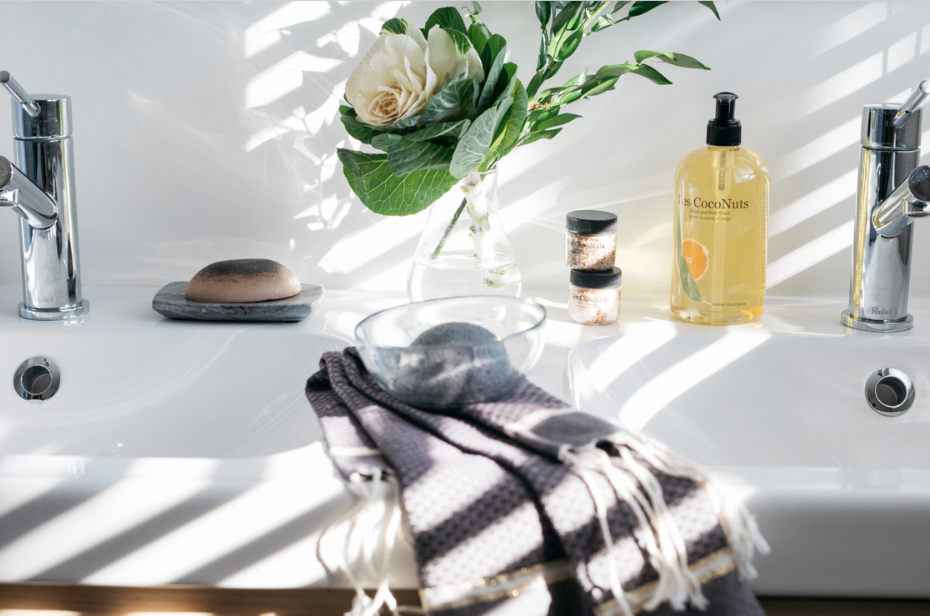 Are you one of those people looking to cut down on your overwhelming amount of bathroom waste? Between expired cosmetic containers and single-use packaging sent to the trash, it's not always easy to know how to go about adopting greener habits.
Eco-conscious and proud of it!
Building on our eco-responsible values ​​and inspired by our collection, we share some Les CocoNuts products and tips with you. These products will undoubtedly help you reduce your environmental footprint in the bathroom.
Facial sponges, make-up removing oils, body soaps and deodorants: these are so many coveted skincare products and therefore likely to generate significant residual materials. Concerned about limiting our plastic and carbon footprints as much as possible, our team relies on responsible initiatives and containers.
Do better with less
You will probably agree with us that a good facial care routine starts with a good cleansing. Good thing, our Konjac sponge is an inveterate ally to provide you with flawless skin. 100% natural and vegan, this beauty tool infused with bamboo-activated charcoal is a perfect ecological alternative to disposable cotton pads. Especially when you know that billions are thrown away every year. Biodegradable and compostable, our sponge has an approximate lifespan of 2 to 3 months when stored in a cool, dry and ventilated place. To learn all about its benefits and uses, refer to its product page.
"It is in small jars that we find the best remedies."
We are not the ones who said it! Our pure coconut oil, available in small and large format, is a must-have for an eco-responsible bathroom pharmacy. Organic, pure, and extra virgin, it comes from a fair culture and first cold pressing. Beyond this healthy and respectful process, our coconut oil has versatile virtues favourable to reducing our ecological footprint.
Anti-microbial, antioxidant and ultra-hydrating, our coconut oil is an excellent natural make-up remover in a spirit similar to our Konjac sponge. Applied with clean fingers, a washcloth or a reusable make-up removing pad, it again helps reduce the number of disposable pieces of cotton consumed. Offered in recycled glass and plastic containers, reusable and recyclable, without BPA or phthalates, this favourite product also helps reduce our carbon footprint. How not to appreciate it? Shop our pure oil right here.
An innovative and effective deodorant
We told you about it in our article "Ode to our recyclable and responsible containers." Our natural deodorant and its refill pouch constitute an ecological and avant-garde option. While the first to have seen the light of day on a global scale, our 100% recyclable deodorant refill is, in itself, an effective and sustainable solution to reducing the number of plastic containers thrown away. Especially when we take into account that these take up to 450 years to decompose in nature. It is, therefore, no surprise that we encourage you to purchase our refill pouch to both reduce your bathroom waste and preserve our environment.
Even more eco-refills ...
Faced with the success achieved with our refill pouch and the trend for refillable products, our CocoNuts team has recently expanded its range of products available for refilling at our boutique in Saint-Bruno. When you show up with your empty bottles of Hand & Body Washes, Facial Cleansing Gels or Hand Sanitizer Gel, we will refill them for you. Each one is more beautiful than the next to minimize its ecological footprint!
In closing, we want to ask you: And you, how do you go about it, beyond these few tips, to avoid producing too much waste in your bathroom? Reply to us by private message or email at info@lescoconuts.ca.