A 100% natural and unique deodorant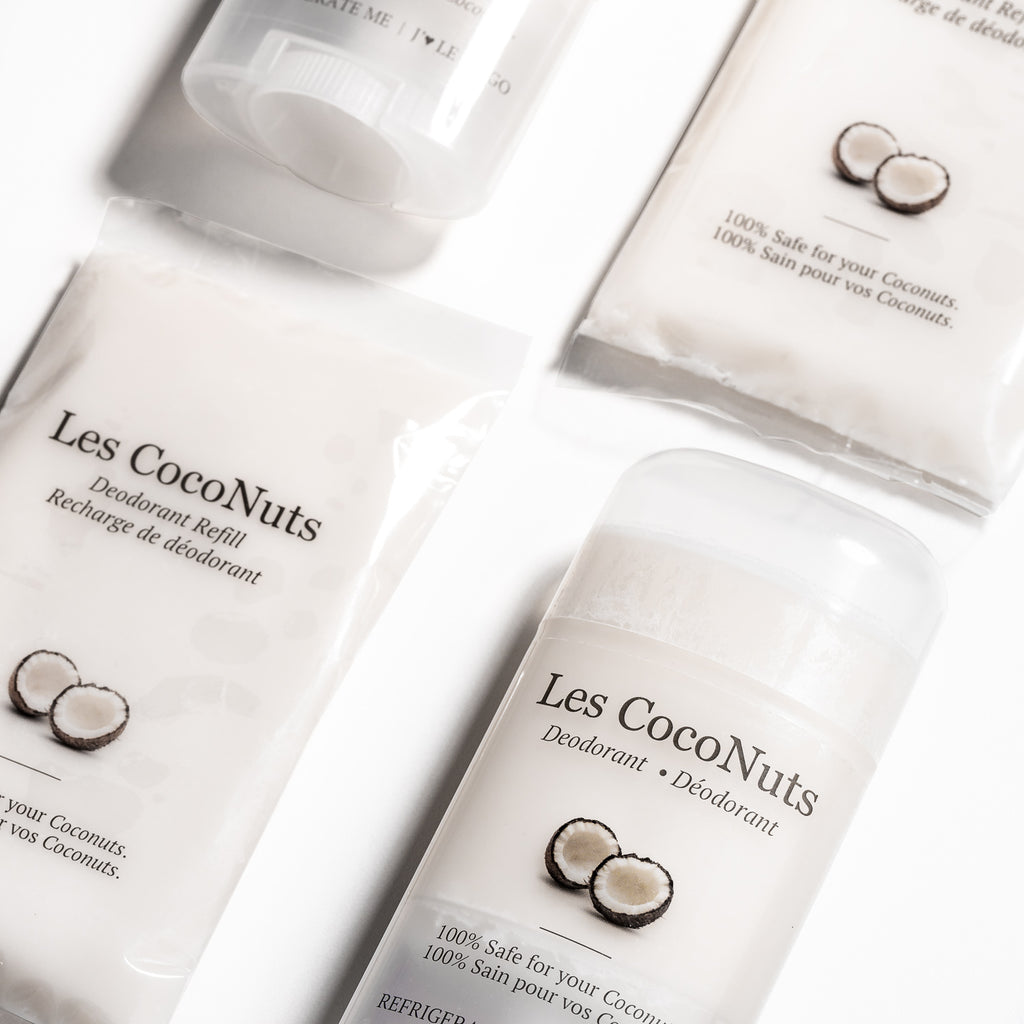 Coconut deodorant is the flagship product at Les CocoNuts. It is from it that stems the full range of goods that we know today. Its creator, Sarah, has developed an innovative, healthy and safe solution for health.
Entirely natural and unisex, you will quickly realize its miraculous benefits and will not want to do without it. Simple and delicate, its formula keeps your armpits wholly fresh and clean, as well as optimal comfort from morning to night. And no, you won't smell the scent of coconut all day. Devoid of synthetics, its light and subtle scent fades and disappears in moments.
A Natural AND Effective Deodorant, Is Possible!
As you may know, most traditional deodorants contain aluminum salt, which has the effect of blocking perspiration and the body's natural functioning, which can become carcinogenic in the long term. Then what alternative to favour? Followers of a healthy lifestyle and natural products, Sarah and the CocoNuts team have been offering you a unique and effective deodorant for more than seven years. Focused on ecological innovation with its refill pouch, it is suitable for all skin types and the whole family. Incredible, isn't it? Is your boy or girl struggling with precocious puberty? No problem! Our coconut formula comes to the rescue of intense, annoying odours.
Another interesting fact: The powdery consistency of arrowroot starch and baking soda, the two ingredients paired with coconut oil, compensates for its oily texture. Therefore, thanks to these, our deodorant does not leave any greasy and sticky feeling under the armpits.
With You, Everywhere
A true revelation for the world of natural skincare products, our deodorant will not stop surprising you! It will be your ally during a stressful day to enjoy an outing in the open air and during your sports activities. You will want it to follow you everywhere and at all times. That's great because our Deodorant, The Traveler, offers the perfect size to keep close at hand. Lightweight and compact, it is easy to carry around in the work case, sports bag and luggage.
Even in times of sweltering heat, we advise favouring this format over the deodorant stick when travelling. The reason is simple: Coconut oil liquefies at temperatures above 21 degrees Celsius. When exposed to such heat, the formula in the travel container will simply become liquid inside the jar without causing damage, thanks to its waterproof nature. To return to a hardened texture, it will suffice to put it in the refrigerator. No mess, no waste: just-like-new deodorant!
Our deodorant tube does not have the same seal. During hot weather, the formula is likely to melt and spread on the walls of its container. At the same time, this melting risks causing clothes to be soiled, in the car and the transport bag, for example. Hence the preference for The Traveller - Deodorant, when you are on the road or do not have access to a cool place to store it when the weather is sweltering. It is moreover to coincide with the different contexts of use and the preferences of each one that our deodorant is available in four formats.
Otherwise, a question that comes up frequently: What if I get deodorant deposits on my clothes? Our secret: 5 cups of hot water and 1 cup of baking soda, and voila.
Now that our natural coconut deodorant has no hiding places for you, all you have to do is make your choice!