Our Team's Summer Essentials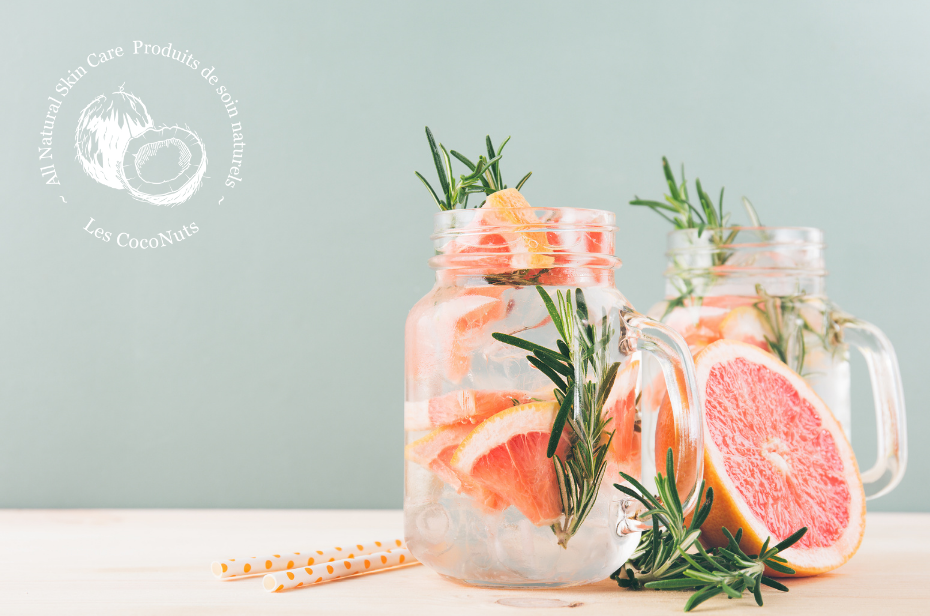 The "Famous" Summer Essentials: There are all kinds for all tastes! Always on the lookout for the most fashionable trends, our CocoNuts team is happy to share with you its favourite summer activities, locations, and cocktails.
Sarah, our owner-founder, considers that there is nothing like spontaneous day-long activities for a fun and successful summer. Each summer, she and her three children set off to explore dairy parlours and restaurants, which they have never visited, in different towns and neighbouring regions. Inspired by the favourites listed on lifestyle blogs, Sarah plans to discover L'Armoire à Glaces, Le Blue Crèmerie, and Casse-Croûte Roquette with her family during their summer vacation.
A lover of the outdoors, our creator also counts mountain hiking, excursions in Sépaq national parks, and days at the beach among her summer essentials. Having reconnected recently with the city of Venise-en-Québec and Lake Champlain, where she had great fun when she was a child, Sarah wishes to show her two teenage daughters and her son around this corner of the province during a next camping trip.
Other than these tourist and recreational pursuits, she established the tradition of "Yes Day!" On this day, each family member chooses an idea or an unusual activity. All family members must participate. In the past, there has been ice cream for lunch, a "whim" getaway two hours away and the most absurd attires!
As Sarah likes to say, a summer without a cocktail is like a sundae without a cherry. Aside from her sister's Amaretto Sour cocktail, which she loves, our seasoned entrepreneur enjoys discovering new products from local distilleries and unique cocktails.  Sarah has enjoyed spruce beer from the Au Pied de Cochon Sugar Shack and the Saint-Crème spirits from Distillerie Mariana, which is now one of her favourites. A goal she has for the summer is to discover a favourite place to drink unparalleled sangria. CocoLovers, your suggestions are welcome!
Karianne, our Marketing and Public Relations Coordinator, is a great fan of summer and its endless possibilities for outdoor activities. With family or friends, she loves to discover and frequent places that are both fun and festive. Being the mother of a young boy, Parc Safari, the Bleu Lavande fields and the beach are must-see destinations every year, which arouse the wonder of this one and make Karianne fall back into childhood. In addition to these family moments, our marketing public relations manager likes to cultivate moments of relaxation in Zen and picturesque places.
The Spa Balnéa, which she discovered in 2017 with a friend, is an absolute favourite for its enchanting site, its sublimely appointed facilities, its chic and gourmet restaurant, as well as its breathtaking view of the Yamaska ​​River, surrounded by giant conifers. On a more exotic note, Karianne appreciates the beautiful summer days on the surrounding terraces. The local pub restaurants Le Charlotte, Le Mile Public House and Turf at Oasis Surf are his favourites due to their relaxed lounge atmosphere and fruity cocktails bursting with flavour. Special mention here at the voyage à rabais cocktail at Mile Public House for its succulent coconut and citrus flavour.
Vivianne, our communications and digital marketing coordinator, much prefers the summer for the beautiful days on the boat on the Richelieu River, as well as the many pleasant moments at the dog park with her young chihuahua pug. Vivianne enjoys other activities with loved ones or friends, such as visits to Ciné-parc St-Hilaire and Marina de Boucherville's beach, which are also popular with our social media magician. As soon as the weather allows it, she likes to set sail for the sandy soil of the marina, where she can bring her dog, enjoy baths and sunsets, and eat with a direct view of the river at the small canteen restaurant Chez Guédille.
Otherwise, Vivianne is no exception to her colleagues and loved ones to find new terraces where to savour her must-have summer drinks. She is fond of two classics: the Bloody Caesar and the Aperol Spritz. Vivianne especially likes the urban bistro La Belle et La Barbe and the sports bar La Belle et La Boeuf for their nostalgic recipes of these timeless cocktails. She finds their excellent comfort food, and their atmosphere is sometimes refined, sometimes colourful. Recently Vivianne discovered a new favourite cocktail in the Sangria Lola of La Belle et La Boeuf. Her heart is happy between the Bloody Caesar, the Aperol Spritz, and the tropical flavours of the latter. Growing up in Beloeil, our communications and digital marketing manager also enjoys returning each year to taste a good microbrewery beer on the Brasseurs du Moulin terrace, located on the banks of the Richelieu River.
Now that you know our team's summer essentials, we're curious about yours. Share them with us by email at info@lescoconuts.ca or by private message via our social media.
Have a good summer, enjoy it!
- Sarah & the CocoNuts Team