Marché des Promenades: the challenges behind our new location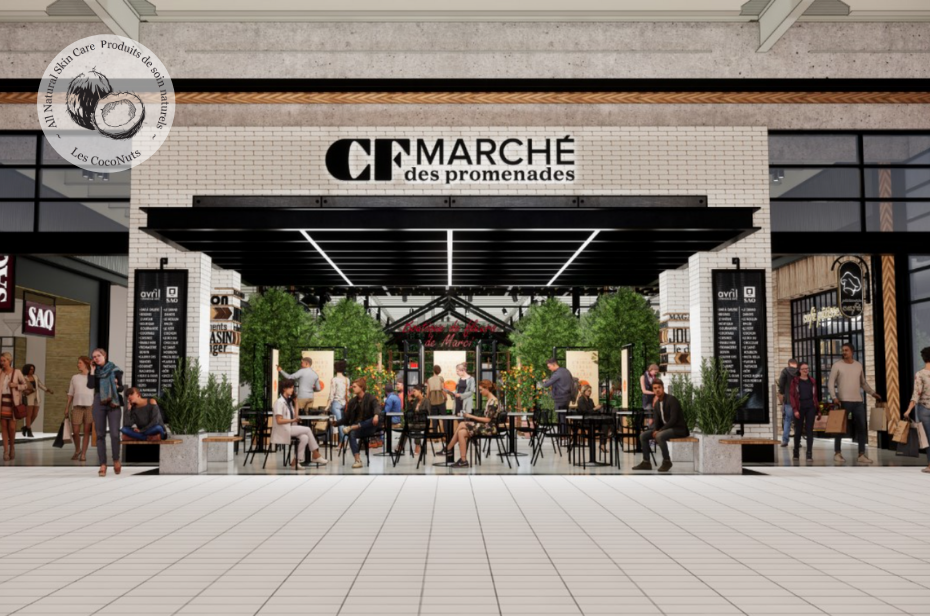 As we announced in April, our storefront shop in Saint-Bruno-de-Montarville will move in a few weeks to the highly anticipated location of Marché des Promenades Saint-Bruno. This location will be a new homeport for some forty local merchants and artisans.  This site will include everything from the food, horticultural and cosmetic sectors. It will be a new kind of experience as gourmet as it is fun for the community of Saint-Bruno and the surrounding area.
An Enriching Development
For our founder, Sarah, and the CocoNuts team, this new adventure results from many years of hard work. Sarah started, in 2014, by formulating and manufacturing our products in her kitchen, before continuing to her garage workshop and then a workshop-boutique in the industrial sector of Saint-Bruno.  Our future location at Marché des Promenades in the city center now is a significant turning point in Les CocoNuts' seven years of activity. This move was made because the location is strategic and has increased visibility. The new storefront also complements another of our outstanding achievements: the resale of our products to partner retailers, which began this year.
Many Challenges!
Despite the frenzy that inhabits us at the dawn of the grand unveiling, on August 19th, we must admit having faced difficult situations beyond our control or less aligned with our values. As these inconveniences are common in business, and they are part of our journey towards this new achievement, we wanted to share them with you in all transparency. All this emphasizes how excited we are to land in this new place after the pitfalls we have overcome.
A move necessarily involves changes and expenses. What we were ready for, of course! Here are the complex challenges that quickly presented themselves to us.
Time and Money ...
For the sake of conformity and uniformity to the concept of the Market, we were put in contact with the architects, designers, and other stakeholders of the project. We quickly had to juggle more expensive quotes than expected and long response times from suppliers.
Time and money were, among other things, the case for the sign of our kiosk. Given that this is intended as a temporary space for the next year, we did not want to invest too much money for its preparation. Especially since we do not plan to reuse it later; our ambition is to favor our online store and sales through our partner retailers. Therefore, after many discussions, negotiations, and late responses, we found the perfect proposal consistent with our budget and the criteria of the Market's leaders. We can't wait to share it with you!
Make Something New with Old!
In addition to the brand, the interior design required studying a few scenarios to optimize the space and make it harmonious with the infrastructures of the Market and the other locations there. Anxious to minimize furniture costs and true to its ecological values, our team has chosen to favor eco-responsibility over novelty. The dimensions of the storage cabinets in our current storefront store coincided with those of the space to be filled at CF Marché des Promenades. We simply decided to give them a second lease of life by moving them with us. This choice is a bit like what we propose to do with our containers when empty—a question of promoting sustainable and eco-conscious use!
The Sample Race
In the wake of the preparations, another problem that we encountered relates to creating samples of our products. Since our very beginnings, we have provided free samples with purchases. The samples were to introduce our customers to complementary products that are likely to interest them and encourage their commitment to our collection. In anticipation of the Market's opening and to satisfy the notorious customer base of Promenades St-Bruno, our objective was to prepare a few thousand samples to distribute to our customers, our kiosk neighbors, and the privileged guests of the evening inauguration, initially scheduled for July 5th. Unlike our products manufactured in our subcontracting laboratory, samples are prepared by hand by our team members. As the planning surrounding the project led to contingency management and the other communication, marketing, and development tasks of our trio, the production of samples on a larger scale had to be delayed. However, do not fear; we are doubling our efforts to ensure that everything is ready to welcome you in large numbers as of August 19th.
Postponed Opening
As implied, it's not just about the preparation time factor that has played a role in our product samples in recent weeks. Initially announced for July 8th, the opening of the Marché des Promenades to the public has been postponed by six weeks due to supply and labor-related delays. In addition to the financial impact, which you trust to catch up very quickly, this postponement required, for our team, a reorganization of working hours. Because the employees selected beforehand to fill the hours of our boutique-kiosk during the summer period would be back in class in the week following the opening, we had to reorganize our schedules to make sure we did not run out of staff during the summer traffic hours.
Calling all CocoLovers: as some merchants and artisans have a shortage of manpower a little less than a month before the opening, you are invited to participate in the Job Fair, organized by CF Promenades Saint-Bruno, on August 6, 7 and 8, from 12 pm to 5 pm. We look forward to seeing you there and, who knows, maybe even welcoming you to our great CocoNuts team.

It's a date !

Notwithstanding the obstacles mentioned, we come out, let's face it, stronger and more ready than ever for this amazing project. August 19th, we are looking forward to seeing you!