The women who inspire our team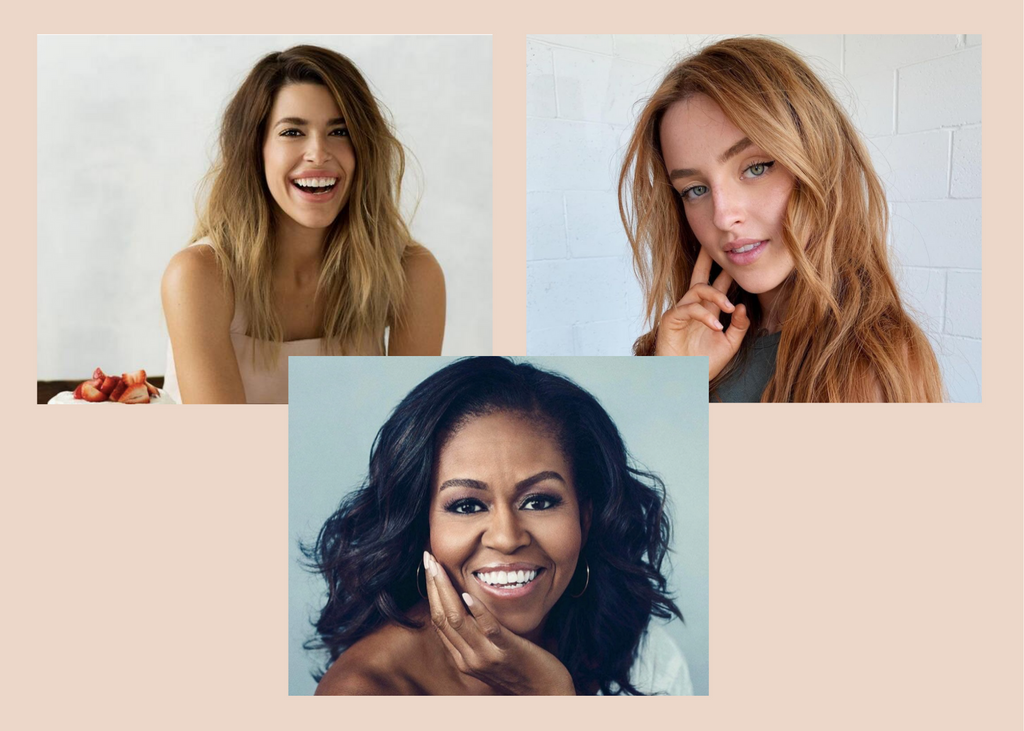 We all have this woman who inspires us with her values, determination, remarkable and enriching journey, and the like. We like to identify with her; we see her as a source of inspiration. Every woman on our CocoNuts team has her inspiring female role model and shares it with you right here.
For Sarah, our owner and creator, there is no doubt: her #empoweringwomaninspiration is none other than Michelle Obama. Lawyer, author, speaker and former First Lady of the United States, this woman has managed to reach the peak of her career in all humility while remaining true to her personal values. A passionate and daring entrepreneur, Sarah devoured Michelle's autobiography, titled Becoming. Captivating at will, she retraces her outstanding moments, both professionally and personally—a remarkable climb, genuinely thrilling to read. A fervent admirer of this eloquent, multi-talented woman, our owner had the opportunity to attend her conference at the Bell Center in Montreal last year. Her presence and her speech will remain etched in Sarah's memory. In addition, Sarah believes that Michelle's close family ties with her husband Barack Obama and their two daughters, Malia and Sasha, constitute a gratifying example for families. Sarah has great admiration for Mrs. Obama and proudly wears her sweater with the quote "When they go low, we go high," which portrays the positive and constructive spirit of the former First Lady of the United States.
One of the women who inspire Karianne, our marketing and public relations coordinator, is Marilou Bourdon. First known to the general public for her singing talent, she is best known today, and for the past seven years, for her founding title of 3 fois par jour. A healthy kitchen project started as a blog and has snowballed. Marilou is the author of four cookbooks, a contributor to numerous magazines and has a YouTube channel. Ms. Bourdon also has an online store, a renovation documentary series, is opening a physical store, and more. The versatility, proactivity and limitless creative energy of the 30-year-old momtrepreneur are simply admirable in the eyes of Karianne, herself a young mother. According to Marilou, if the expression "One project does not wait for the other" had not existed, Marilou could have created it.  Marilou, who is also the founder of Boutique Rosane, designed for women and children, is additionally involved in numerous business partnerships with local companies. One of these companies is Patience Fruit & Co—which our team is particularly fond of—Aliments du Québec and the IGA banner. Apart from finding Ms. Bourdon mind-blowing in everything she does, Karianne connects many areas of her life to the singer and entrepreneur. Marilou's relationship with food, her business career, and her song "You Share Your Body" take our team member back to significant times in his past. Karianne loves to follow Marilou in the entrepreneur's daily life, which is authentic and sincere, via her social media platforms.
The woman our communications and digital marketing coordinator, Vivianne, has the greatest admiration for is Alicia Moffet. Singer, influencer and entrepreneur, Moffet uses her social platforms and music to educate her community on sensitive topics in humility and transparency. This young woman of mind and heart is very open to discussing subjects related to self-acceptance, bodily surgeries and abortion, an authenticity that Vivianne greatly appreciates. Only 22 years old, the artist behind the success of Beautiful Scar has developed her career while becoming a mother to young Billie Lou, who is now one and a half years old. Following Alicia in her daily activities inspires Vivianne to remain passionate and determined to achieve her greatest ambitions, both personal and professional.
As you have seen, the three women who inspire each team member are very different in character, background, history, career and values. They are all three unique and testify to the beauty of the difference.