A typical week at Les CocoNuts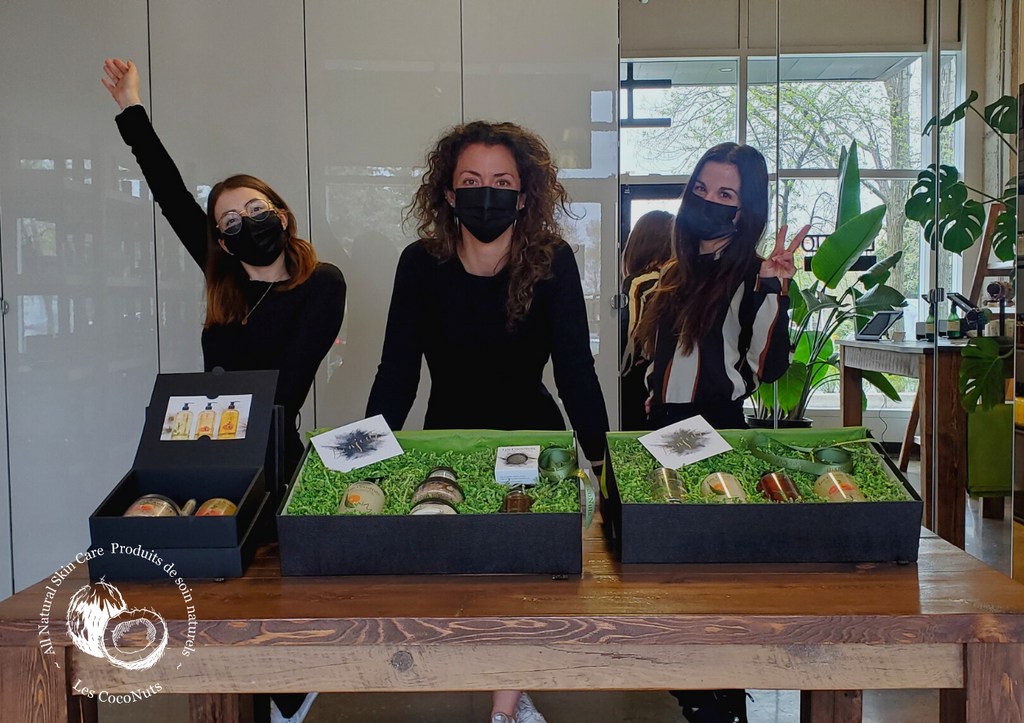 At Les CocoNuts, we like to share our daily tasks and team moments with you. Therefore, it is our pleasure to reveal to you the reverse side of a week of work in our universe.
A routine in our image
Monday, the weekend continues for our CocoNuts team, who take time to breathe fresh air and move forward with their personal projects.
After a few days spent with the family, Tuesday marks the start of a new work week for Sarah, our owner-founder, and Karianne, our marketing and public relations, coordinator. Sarah and Karianne say the beginning of the week means coffee-talk! Indeed, every Tuesday starts with an excellent Nespresso coffee: a privileged moment for our two acolytes to tell each other about their weekend. Then, officially begins the day with greetings to our valued customers who come through the doors of our store throughout the day.  We also attend to a summary of the current files, emails, and weekly planning follow-up.
Two is good, but three is even better! Or, as Rihanna would say, Wednesday is "Work, work, work, work, work!". Wednesday is the day Vivianne, our communications and digital marketing coordinator joins the duo Sarah and Karianne. Because it is the first time in the week the three of us are working together, the store goes into a creative mode. We make sure that our projects—collaborations, partnerships, contests, promotions, and the like—coincide with our editorial planning. We keep brainstorming sessions on our creative content, publications, and visuals. We carefully concoct our weekly newsletter, which is sent to you every Wednesday at the end of the day. Sometimes informative, sometimes promotional, we make sure always to offer you dynamic and engaging newsletters.
To each their own bubble!
Thursday is the day when each member of our trio works a little on their own. The tasks of each were defined earlier in our team meetings, and therefore, we intend to achieve/concretize them. For Sarah, the day consists of several follow-ups with our suppliers and partners for our production, the resale of our products, and our online store's optimization. In addition, there is the preparation of orders, which she takes care of daily.
For Karianne's part, Thursdays are dedicated to making contact and following up with our retail partners and potential partners. These contacts and follow-ups have recently given rise to exceptional collaborations with the CliniSPA Saint-Bruno, the Eco-Boutique Un Monde à Vie in Mascouche and the Gypsie Bohème boutique-workshop in Saint-Jean-sur-Richelieu, where our products are available. Passionate about writing, our marketing and public relations coordinator also fills her Thursday agenda with writing blog articles related to our ingredients and products, our team and our local favourites.
As a student in business management, Vivianne intends her Thursdays for her studies.
Truth Fridays
Our spirited trio spends their Fridays together! To mark Sarah and Karianne's last working day of the week, we have established a tradition: Truth Friday, which we could also kindly call Soft Friday or Cocktail Friday. It's simple: it's a day where we allow ourselves a relaxed atmosphere, full of giggles and a casual dress code; jeans are permitted when we are not filming video clips for our social media. Yeah!  Then, we end the afternoon with a cocktail with or without alcohol and pastries from local businesses to celebrate our good times of the week. Because #WhyNotCoconut!
On Saturdays, our communications and digital marketing coordinator is alone at the store to welcome you. She takes advantage of Sarah and Karianne's absence to film the stories and reels that you enjoy watching on our social networks. A fine creator of our digital content, she also reserves this day alone to plan our social publications.
Then Sunday, it's time off for our entire CocoNuts team.
There you are, you know all the secrets of our daily life. Hope to meet you at the store soon!